Election time is here, please donate
It costs thousands of dollars to run a local campaign. We spend every dime of our campaign fund getting each candidate's message out to you, the voter, via direct mail, flyers, lawn signs, and radio ads.
Donate Online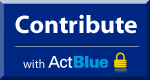 You may donate directly through ActBlue, our online fundraising site.
Send a Donation
Dryden Democrats
PO Box 1063
Dryden, NY 13053
​Please make your check payable to "Dryden Democrats". All donations of $100 or more will be reported in filings with the Board of Elections. Political donations are not tax-deductible.