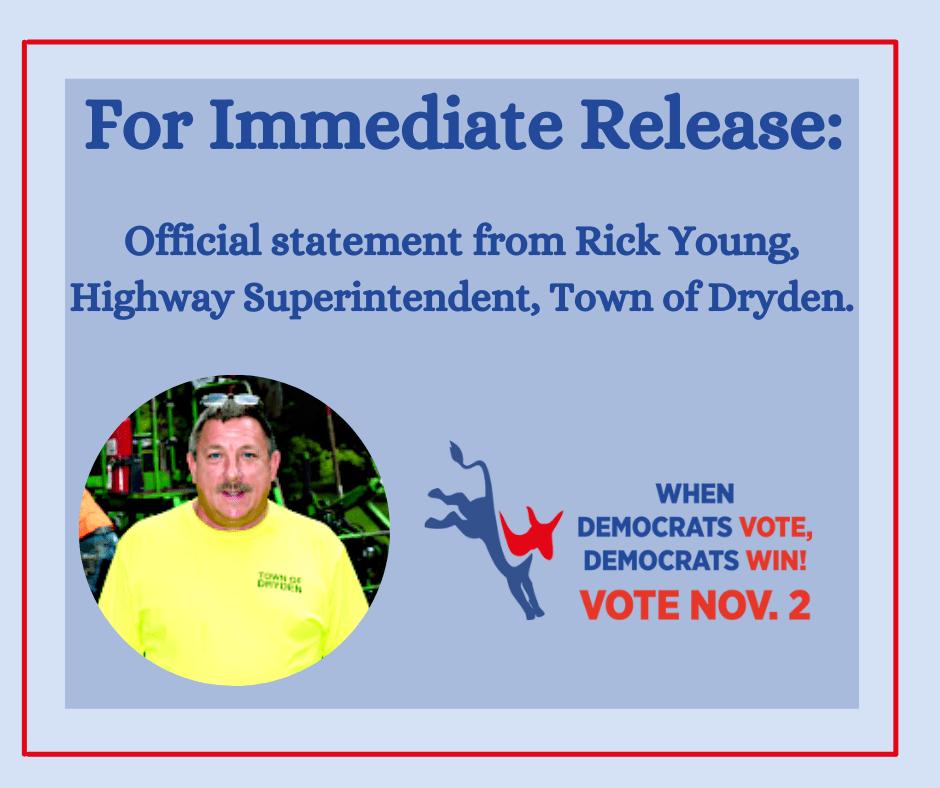 FOR IMMEDIATE RELEASE:
10/18/2021
Dear Folks,
Serving as town highway superintendent is one of the toughest jobs I've had, but it's the most rewarding. Like any job, it's hard to make everyone happy. However, I must be doing something right since no one is running against me this year.
You might have heard that the Dryden Republicans have endorsed me. That's all good and well, but I want to make it 100% clear that I am a Democrat who supports my fellow Democrats running for office.
The way I see it, there's only one party fighting to build more roads and bridges, and it sure as heck isn't the Republicans. But there are other issues I care about. That's why I want you to join me in voting to re-elect Jason Leifer, Dan Lamb, and Leonardo Vargas-Mendez. I've never seen a town board work as hard as these folks and they've earned our support. This board works for us to increase jobs and economic development, affordable housing, renewable energy, and better planning for our future. I support their work to create a town broadband system, a business loan fund, a stronger recreation program, and better fire and emergency services.
The rail trail project is another effort I support. The highway department is constructing the trail and it's quickly becoming a great recreational and commuter resource. I'm happy that the rail trail has won over $2 million in state money for a pedestrian bridge over Rt. 13. Just like the $4 million in grants I secured for the Freese Road and George Road bridges, this money comes from the state, not Dryden property taxes. We need safe bridges for cars and pedestrians in the town and building them is a lot easier with state funding.
This is a busy time in the town and we need to keep this productive team in place. So again, please join me in voting for Jason, Dan, and Leonardo this November 2. Let's keep working together to make Dryden a better place to live, work, play and raise families.
Sincerely,
Rick Young
Highway Superintendent, Town of Dryden
Find more information about the candidates at:
https://drydendems.net/our-candidates