Meet the Candidate – Mike Lane
Mike is running for re-election to the Tompkins County Legislature, where he represents the east side of the Town of Dryden and the villages of Freeville and Dryden. He has also served as mayor of the Village of Dryden.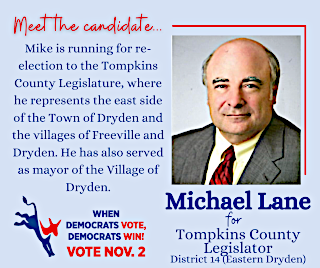 As a county legislator, Mike served as the Chair of the Legislature for four years. Recently he has chaired three standing committees (Budget, Government Operations and Facilities), as well as special committees like Transportation and Census. He has also chaired the Tompkins County Industrial Development Agency.
Mike's top priority is helping the county recover from the pandemic through economic development. Other top concerns include addressing local housing needs, supporting TC3 and our Sheriff's Road Patrol, and increasing the county's use of renewable energy sources.
An attorney with a private practice located in the Village of Dryden, Mike also serves as a Trustee of Dryden's Southworth Library Association.
Interested in supporting the campaign?
https://drydendems.net/donate/