Meet the Candidate – Leonardo Vargas-Mendez
Leonardo was appointed to the town board in February to fill a vacancy and hopes to win his first full term. He is eager to continue to help improve the quality of life for all town residents, while preserving our beautiful, productive environment.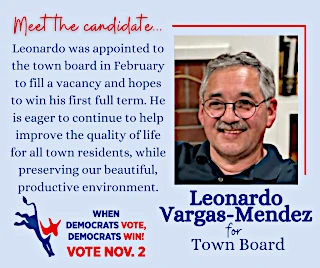 His priorities include working with other local governments and responsible businesses to develop well-paid job opportunities and supporting ecologically sound affordable housing. Leonardo also hopes to promote a buy-local mindset for products from Dryden farms and artisans.
A 43-year resident of Tompkins County, Leonardo retired in 2017 after 30 years at Cornell. He was director of the university's Public Service Center, which matches students with volunteer agencies around the world. He has served on numerous local boards, including Ithaca Neighborhood Housing Services and Catholic Charities of Tompkins and Tioga Counties.
Interested in supporting the campaign?
https://drydendems.net/donate/