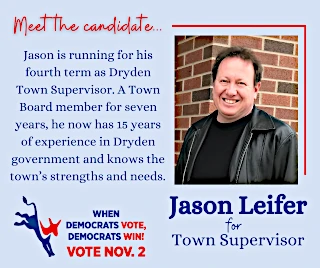 Meet the Candidates – Jason Leifer
Jason Leifer is running for his fourth term as Dryden Town Supervisor. A Town Board member for seven years, he now has 15 years of experience in Dryden government and knows the town's strengths and needs.
Jason has used his team-based governing style to improve the town's infrastructure and attract environmentally friendly development. His efforts generated more than $100 million dollars in new public and private investment in just 5 years. Other projects were made possible by responsible budgeting and grants.
One of Jason's goals is to replace the patchwork of private Internet service providers with municipal broadband. Now in Phase One, the plan will provide high-quality Internet service to all town residents. Revenue from subscriptions will fund town reinvestment for generations to come.
Other priorities—to update the town's Comprehensive Plan and the Dryden Rail Trail—are near completion. The trail project received millions of dollars in grants from the state and federal government, town funding and private donations of time, money, and materials.
Jason is a graduate of New York Law School and primarily practices family law and criminal law and serves as an attorney for children.
Interested in contributing to the campaign?
https://secure.actblue.com/contribute/page/drydendems