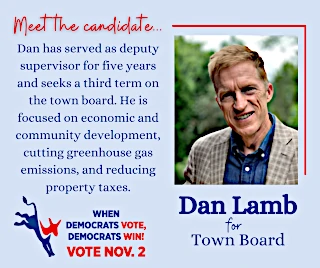 Meet the Candidates – Dan Lamb
Dan Lamb has served as deputy supervisor for five years and seeks a third term on the town board. He is focused on economic and community development, cutting greenhouse gas emissions, and reducing property taxes.
Dan negotiated an exclusive agreement with Solar Farms NY that doubled the savings for Dryden residents. He led the town's negotiations with Berkshire Hathaway Energy that will require cleaner emissions, reductions in methane leakage, and unprecedented public disclosure at Borger Station in Ellis Hollow. He also established Dryden's Business Loan Fund to support small businesses and create jobs.
Dan wrote the resolution that created the Dryden Rail Trail. He negotiated an agreement with New York State to route the trail through state-owned land.
Dan teaches intergovernmental relations and politics at Cornell, drawing on his 25 years working in federal, state, and local government. He is active on nonprofit boards focused on healthcare and environmental protection.
Interested in supporting the campaign?
https://secure.actblue.com/contribute/page/drydendems